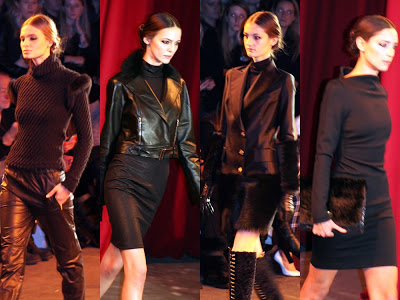 Christian Siriano Fall 2013 Collection
Not even the mighty snowstorm Nemo could keep fashionistas from attending the Christian Siriano Fall 2013 Collection show during New York Fashion Week. One day after the storm blanketed the city in white, a long line of freezing yet anxious fashion lovers stood out in the cold awaiting entrance into Siriano's always anticipated collection – yours truly included. It's amazing to think that we were introduced to this very talented designer merely five years ago. We, his fans, all saw the talent which is why we will continually wait out in the cold get an early peek at his collection.
Inspired by "the golden age of the Russian Opera", Siriano's collection was filled with sophisticated shapes, gilded and embossed fabrications and deep jewel-toned colors. With this collection, Siriano shows what a modern woman with a bit of edge might wear to an evening out at this opulent event. Here's something really notable about Siriano's collection – he used a combination of faux fur, faux lambswool, faux shearling and real wool and leather. Of course this didn't make the collection look any less luxe.
I've gotten used to Siriano ending his show with a exhilaratingly, jaw-dropping piece and this season was no different as he wowed with a stunning Gold Beaded Mesh Illusion Gown
Check out Christian Siriano's Fall 2013 Collection show finale in the #HTCOne filmed video below (Siriano makes his appearance at the 1:07 minute mark)